Five Great Restaurants, One Card!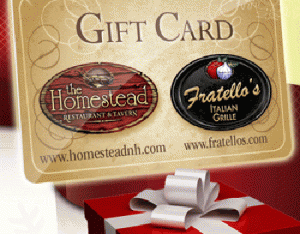 Just enter in the desired dollar amount below and press the Add to Cart button.
Enter different denominations separately. Quantities can be adjusted in the Cart.
Gift cards ordered online will be shipped via US Mail.  Please allow up to a week for delivery.  For correspondence regarding orders placed online, please call our corporate offices at (603) 527-1200 or email [email protected].
Get updates about new amazing dishes and upcoming events!